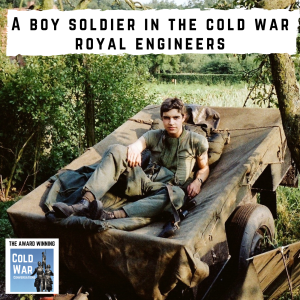 Paul joined the Royal Engineers in 1977, aged 16 as an apprentice. We hear of his experience of joining the army at such a young age and being away from home for the first time.
After initial training, his first posting was to Osnabruck in 1979. Shortly after his arrival Paul is appointed to the challenging role of driver to the Squadron Sergeant Major.
With participation in exercises such as Crusader 80 and Active Edge Paul describes in detail the role of Royal Engineers in Cold War Germany, including mine laying, bridge demolition and fixed defence construction.
Listen on Apple PodcastsListen on SpotifyListen on Google PodcastsBecome a Patron!
Paul's story is full of great anecdotes and tales of the reality of life in the British Army of the Rhine.
Don't miss our next episode where Paul joins the  Army Air Corps and becomes an Aircrewman Observer on Gazelle helicopters along the Inner German Border.
---
Cold War history is disappearing; however, a simple monthly donation will keep this podcast on the air. You'll get a sought-after CWC coaster as a thank you and you'll bask in the warm glow of knowing you are helping to preserve Cold War history. 

Just go to https://coldwarconversations.com/donate/
---
I am delighted to welcome Paul to our Cold War conversation…
Follow us on Twitter here https://twitter.com/ColdWarPod
Facebook here https://www.facebook.com/groups/coldwarpod/
Instagram here https://www.instagram.com/coldwarconversations/
---