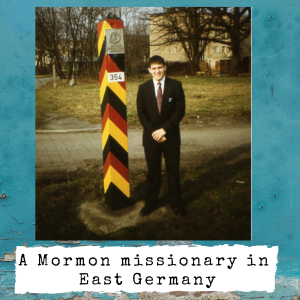 In the early 1980s East Germany had just 5000 members of the Church of Latter-day Saints, many of which had been members since before World War 2.
In 1982 East German leader Erich Honecker historically allowed the church to build a temple in Freiberg and in 1988 Mormon missionaries were allowed into East Germany. Ken Brady describes his experiences as a Mormon missionary in East Germany as the country gradually disappeared and was absorbed into West Germany.
Listen on Apple PodcastsListen on SpotifyListen on Google PodcastsBecome a Patron!
Ken also gives us a valuable view of life away from Berlin in cities such as Cottbus, Gorlitz, Schwerin, Frankfurt an der Oder and Eisenhüttenstadt. It's a fascinating story told with humour and candour as Ken grapples with local dialects, the local food and tricks with East German currency.
Cold War history is disappearing; however, a simple monthly donation will keep this podcast on the air. You'll get a sought-after CWC coaster as a thank you and bask in the warm glow of knowing you are helping preserve Cold War history.
Just go to https://coldwarconversations.com/donate/
If a financial contribution is not your cup of tea, then you can still help us by leaving written reviews wherever you listen to us and sharing on social media. It really helps us get new guests on the show.
I am delighted to welcome Ken Brady to our Cold War conversation…
Follow us on Twitter here https://twitter.com/ColdWarPod
Facebook here https://www.facebook.com/groups/coldwarpod/
Instagram here https://www.instagram.com/coldwarconversations/
Radio GDR
If you are interested in East Germany we can highly recommend our friends over at Radio GDR.
Support the Podcast and get access to exclusive extra content here