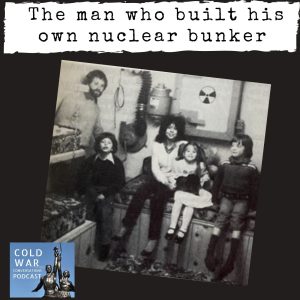 Graham Bate was 30-year-old Civil Servant when he built his own nuclear bunker in the garden of his rural home 20 miles outside Hull in the UK.
It was here that the Bate family expected to survive for at least 3 weeks after a nuclear attack.
We speak with Graham Bate and his son Conrad who was 5 years old when the bunker was built and has vivid memories of the period.
Listen on Apple PodcastsListen on SpotifyListen on Google PodcastsBecome a Patron!
Cold War history is disappearing; however, a simple monthly donation will help preserve these accounts and keep this podcast on the air. You'll get a sought after CWC coaster as a thank you and you'll bask in the warm glow of knowing you are helping to preserve Cold War history.
Just go to https://coldwarconversations.com/donate/
If a financial contribution is not your cup of tea, then you can still help us by leaving written reviews wherever you listen to us as well as sharing us on social media. It really helps us get new guests on the show.
I am delighted to welcome Graham and Conrad Bate to our Cold War conversation…
Special thanks to Al McCann who helped facilitate this episode. Please visit his website Northern Ireland's Secret Bunker. A Cold War 'Living' Museum situated in County Armagh https://www.facebook.com/nibunker/
If you can't wait for next week's episode do join our Facebook discussion group where the cold war conversation continues.
Thank you very much for listening. It is really appreciated.
Videos
Protect & Survive – 1970's UK Public infommercials On Nuclear War Preparation
Inside a Swiss domestic nuclear shelter – door and filtration system very similar to Garham and Conrad's (excuse the advertising)
Cold war Museums
Portadown monitoring post in Northern Ireland
Cosford National Cold War Museum
Dundee ROC Group/Sector Bunker
Follow us on Twitter here https://twitter.com/ColdWarPod
Facebook  https://www.facebook.com/groups/coldwarpod/