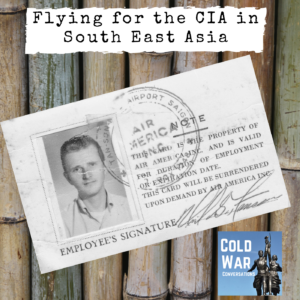 In 1964, pilot Captain Hansen found himself unemployed. He began to send out feelers to several companies including one that had placed an ad in the Washington Post called Air America. When he was called in for an interview which primarily consisted of two questions – can you fly good and do you drink a lot.
Listen on Apple PodcastsListen on SpotifyListen on Google PodcastsBecome a Patron!
Air America was the airline owned by the CIA. Its operations were unknown. Its schedules were irregular. Its pilots were shadow people. Its world was the world of spooks, covert air ops, adventure, and danger. Hansen would be flying in Vietnam, Cambodia, Laos and other locations in Southeast Asia. It could not have been a better fit for Hansen, an addicted adrenaline junkie. He would end up staying in Asia for over a decade and was fortunate enough to live to tell us about it in his book "Flight"
Cold War history is disappearing; however, a simple monthly donation will help preserve it and keep this podcast on the air. You'll get a sought after CWC coaster as a thank you and you'll bask in the warm glow of knowing you are helping to preserve Cold War history.
Just go to https://coldwarconversations.com/donate/
If a financial contribution is not your cup of tea, then you can still help us by leaving written reviews wherever you listen to us as well as sharing us on social media. It really helps us get new guests on the show.
I am delighted to welcome Neil Hansen to our Cold War conversation…
If you can't wait for next week's episode do visit our Facebook discussion group where guests and listeners continue the Cold War Conversation. Just search Cold War Conversations in Facebook.
Thank you very much for listening. It is really appreciated.
Videos
Support the Podcast and get exclusive extra content
Available on our Patreon page here