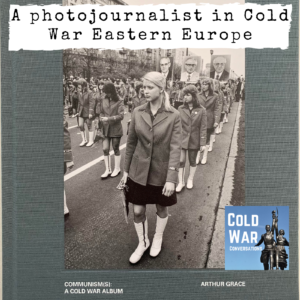 During the 1970s and 1980s, Arthur Grace travelled extensively behind the Iron Curtain, working primarily for news magazines. One of only a small corps of Western photographers with ongoing access, he was able to delve into the most ordinary corners of people's daily lives, while also covering significant events. His remarkable book Communism(s) A Cold War Album is effectively psychological portraits that leave the viewer with a sense of the gamut of emotions in that era.
Listen on Apple PodcastsListen on SpotifyListen on Google PodcastsBecome a Patron!


Illustrated with over 120 black-and-white images-nearly all previously unpublished- Communism(s) gives an unprecedented glimpse behind the veil of a not-so-distant time filled with harsh realities unseen by nearly all but those that lived through it. Shot in the USSR, Poland, Romania, Yugoslavia and the German Democratic Republic, here are portraits of factory workers, farmers, churchgoers, holidaymakers and loitering teens juxtaposed with Social Realist-designed apartment blocks, annual May Day Parades, Poland's Solidarity movement (and the subsequent imposition of martial law) and the vastness of Moscow's Red Square.
 

 

View this post on Instagram

 
Cold War history is disappearing; however, a simple monthly donation will keep this podcast on the air. You'll get a sought after CWC coaster as a thank you and you'll bask in the warm glow of knowing you are helping to preserve Cold War history. 
Just go to https://coldwarconversations.com/donate/
If a financial contribution is not your cup of tea, then you can still help us by leaving written reviews here. It really helps us get new guests on the show.
We welcome Arthur Grace to our Cold War conversation…
If you can't wait for next week's episode do visit our Facebook discussion group where guests and listeners continue the Cold War Conversation. Just search Cold War Conversations in Facebook.
Thankyou very much for listening. It is really appreciated – goodbye.
Support the show (https://www.patreon.com/coldwarpod)
 

 

View this post on Instagram

 
 

 

View this post on Instagram

 
 

 

View this post on Instagram