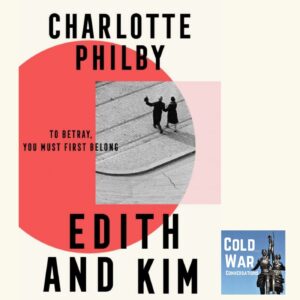 In June 1934, Kim Philby met his Soviet handler, the spy Arnold Deutsch. Kim Philby was a British intelligence officer and a double agent for the Soviet Union. In 1963 he was revealed to be a member of the Cambridge Five, a spy ring that had divulged British secrets to the Soviets during World War II and in the early stages of the Cold War.
The woman who introduced Philby to Deutsch was  Edith Tudor-Hart and her story has never been told.
Listen on Apple PodcastsListen on SpotifyListen on Google PodcastsBecome a Patron!
Edith Tudor Hart changed the course of 20th-century history. Then she was written out of it.
I speak with Charlotte Philby, granddaughter of Kim Philby.  Charlotte has written "Edith and Kim" which draws on the Secret Intelligence Files on Edith Tudor Hart, along with the private archive letters of Kim Philby. This finely worked, evocative and beautifully tense novel tells, for the first time, the story of the woman behind the Third Man.
We also hear from Charlotte what it was like having Kim Philby as her grandfather, including details of visits to see him in Moscow during the Cold War. It's a fascinating insight into one of the most notorious spies of the Cold War.
Now, this podcast relies on your support to enable me to continue to capture these incredible stories and make them available to you.
If you'd like to continue to hear the podcast and help preserve Cold War history, you can support me via one-off or monthly donations.
Just go to https://coldwarconversations.com/donate/ for more details. 
If a financial contribution is not your cup of tea, then you can still help us by leaving written reviews wherever you listen to us as well as sharing us on social media. It really helps us get new guests on the show.
I am delighted to welcome Charlotte Philby to our Cold War conversation…
Thank you very much for listening. It is really appreciated.
BOOK GIVEAWAY – BOOK GIVEAWAY – BOOK GIVEAWAY
Harper Collins have kindly provided 3 copies of "Edith and Kim" to give away!
To be in with a chance to win a free copy of the book you will need to do at least one of the following before 2300 BST 3rd April 2022:
** Winners will be selected randomly w/c 4th April 2022. If you are a winner You will be notified directly if you have won. Please note if you are a winner your details will be passed to the publisher to facilitate book delivery. Delivery of the book may be subject to small customs fees. Good luck!