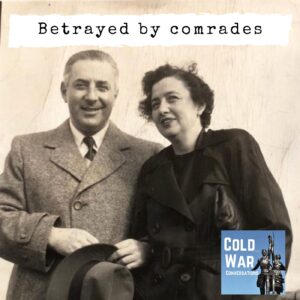 Liz Kohn has been researching Alice Glasnerová, who was imprisoned as part of the early Cold War Czechoslovak show trials known as the Slánský trials.
These were among the most notorious show trials of the 20th century, with the prosecution and sentencing to death of Rudolf Slánský, general secretary of the Czechoslovak Communist party, and 10 other defendants, who had been arrested in a brutal purge ordered by Stalin.
Alice Glasnerová. was Liz's father's first wife.  When Liz started researching Alice's life she had never seen a picture of her and had never read a word she had written. All I knew was that she had been married to her father and had been a member of the communist party. Liz has pieced together a tragic story of a couple although deeply in love, who were separated by the difference in their political views which ultimately resulted in pain, disillusion and betrayal.
Now if you think there is a vast army of research assistants, audio engineers and producers putting together this podcast you'd be wrong. This podcast relies on your support to enable me to continue to capture these incredible stories and make them available to everyone for free. 

If you'd like to help to preserve Cold War history and enable me to continue to produce this podcast you can via one-off or monthly donations.

Just go to https://coldwarconversations.com/donate/ for more details. 
If a financial contribution is not your cup of tea, then you can still help us by leaving written reviews wherever you listen to us as well as sharing us on social media. It really helps us get new guests on the show.
I am delighted to welcome Liz Kohn to our Cold War conversation…
You can read more about Liz's research on her blog  https://lookingforalice.com/
A Trial In Prague from Cinema Guild on Vimeo.