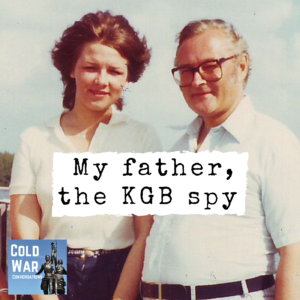 Listen on Apple PodcastsListen on SpotifyListen on Google PodcastsBecome a Patron!
In 1978, Ieva Lesinska was a university student in Soviet Latvia with dreams of becoming a writer. She had just spent a heady month in New York visiting her father, Imants Lesinskis, a Soviet translator working at the United Nations. He was an employee of the KGB and a member of the Communist Party. During her trip to the US, Ieva's father informed her that he and his wife Rasma were about to defect. He offered her a blunt choice: take a taxi to the Soviet Embassy and denounce him as a traitor, or stay with him and never see her mother or her homeland of Latvia again. She chose to stay.
The new family officially became East German immigrants with new identities: Peter and Linda Dorn, and their daughter Evelyn. They were citizens of nowhere who possessed re-entry permits but no passports. In 1985, soon after Mr. Lesinskis publicly disclosed confidential items on various KGB operations in Latvia, he died under mysterious circumstances.
After his death, the CIA acknowledged that Mr. Lesinskis "had made a significant contribution to the US government and the Agency after his defection." Nevertheless, the CIA declined to comment on the most intriguing element of the story Mr. Lesinskis told them in the 1980s – that he had served as a double agent for two decades working undercover for the KGB by day, and slipping secrets to the CIA by night…
Now time doesn't come free and I'm asking listeners to support my work recording these incredible stories via a small (or large)l donation. If you become a monthly supporter via Patreon, you will get the sought after CWC coaster as a thank you and bask in the warm glow of knowing you are helping to preserve Cold War history.
Just go to https://coldwarconversations.com/donate/
If you can't wait for next week's episode do visit our Facebook discussion group where guests and listeners continue the Cold War Conversation. Just search Cold War Conversations in Facebook.
I am delighted to welcome Ieva Lesinska to our Cold War conversation…
Thank you very much for listening. It is really appreciated.
Uk https://amzn.to/3In12Ra
US https://amzn.to/3xRZsBX