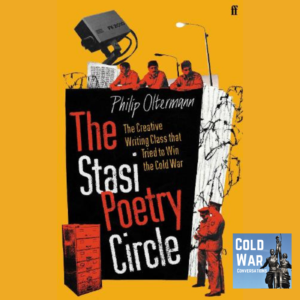 In 1982 the East German Ministry for State Security is hunting for creative new weapons in the war against the class enemy – and their solution is stranger than fiction. Rather than guns, tanks, or bombs, the Stasi develop a programme to fight capitalism through rhyme and verse, winning the culture war through poetry – and the result is the most bizarre book club in history.
I speak with Philip Oltermann the author of The Stasi Poetry Circle. Philip has used unseen archival material and exclusive interviews with surviving members to tell the incredible hidden story of a unique experiment: weaponising poetry for politics.
Now if you think there is a vast army of research assistants, audio engineers and producers putting together this podcast you'd be wrong. This podcast relies on your support to enable me to continue to capture these incredible stories and make them available to everyone for free.
If you'd like to help to preserve Cold War history and enable me to continue to produce this podcast you can via one off or monthly donations.
Just go to https://coldwarconversations.com/donate/ for more details.
Do join our Facebook discussion group where the cold war conversation continues between episodes. Just search Cold War Conversations in Facebook.
I am delighted to welcome Philip Oltermann to our Cold War conversation…
Thank you very much for listening. It is really appreciated – goodbye.
Support the show (https://www.patreon.com/coldwarpod)