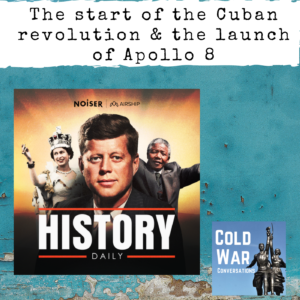 The phrase "history is human" was coined by two-time Pulitzer Prize-winning author and historian David McCullough. He says "History is about life. It isn't just about dates and quotations from obscure treaties and the like; it's about people", which is exactly what Cold War Conversations is about.
I discovered this phrase listening to the History Daily podcast presented and narrated by Lindsay Graham. This podcast takes you back in time to explore a momentous moment that happened "on this day" in history using fully immersive, sound design, original music and a compelling narrative style.
I really enjoy it and I'm sure you will too.   I am sharing two short Cold War episodes on this bonus episode. If think you'd enjoy  the History Daily podcast follow or subscribe by searching "History Daily Podcast", or click on this link https://pod.link/1591095413
Support the Cold War Conversations and help preserve Cold War history, plus get access to exclusive extra content. 
Available on our Patreon page here