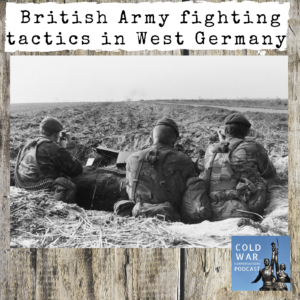 Frank Baldwin was commissioned into the Royal Artillery in 1979 and served for ten years, rising to the rank of Major. The first battlefield study he planned was in 1989 for HQ 4th Armoured Division. Since then, he has been a guide or historian for over 200 realities of war tours, battlefield studies and staff rides. 
Frank reels off lots of great anecdotes as he takes us through the initial years of the BAOR and the British Army's plans for the defence of West Germany. 
Listen on Apple PodcastsListen on SpotifyListen on Google Podcasts
He talks about the evolution of doctrines, on both the Soviet and NATO sides including their nuclear war-fighting techniques.
Frank also describes working with Warsaw Pact observers of NATO military exercises and the British view of the effectiveness of other NATO armies as well as the armies of the Warsaw Pact.
Now if you are enjoying these podcasts I'm asking for you to support my work with a small monthly donation. Your donations enable me to continue to capture these incredible stories and make them available for free to others. 

Just go to https://coldwarconversations.com/donate/ for more details.
Do join our Facebook discussion group where the cold war conversation continues between episodes. Just search Cold War Conversations on Facebook.
I am delighted to welcome Frank Baldwin to our Cold War conversation…
Maps, material on BAOR and the Cold war. Cold war background material
Frank Baldwin's blog The Observation Post
Thank you very much for listening.
Support the show (https://coldwarconversations.com/donate/)