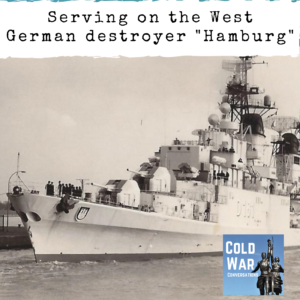 Karl-Heinz served in the Bundesmarine as a Signalman on the West German destroyer "Hamburg" in the late 70s.
He talks of his training, his role and shares details of manoeuvres in the North Sea and Baltics involving East German and Soviet ships.
He also speaks about a cruise to West Africa where the sailors were briefed to stay away from any East German merchant marine sailors and not to engage with them in any form – he and his mates didn't keep to the rules…
If you have listened this far, I know you are enjoying the podcasts so I'm asking for one-off or monthly donations to support my work and enable me to continue producing the podcast. If you become a monthly supporter via Patreon, you will get the sought after CWC coaster as a thank you, audio and other extras as well as basking in the warm glow of knowing you are helping to preserve Cold War history. Just go to https://coldwarconversations.com/donate/
If a financial contribution is not your cup of tea, then you can still help us by leaving written reviews wherever you listen to us as well as sharing us on social media. It really helps us get new guests on the show.
I am delighted to welcome Karl-Heinz to our Cold War conversation…
There's further information on this episode in our show notes here.
If you can't wait for next week's episode do visit our Facebook discussion group where guests and listeners continue the Cold War Conversation. Just search Cold War Conversations in Facebook.
Thank you very much for listening.