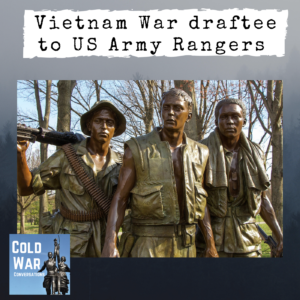 Bob Wallace joined the US Army in 1968 as a reluctant conscript.  He describes the draft process, and his attempts to avoid conscription.
After basic training, Bob is assigned to a long-range reconnaissance unit and ambush unit in five or six-man teams in the Mekong delta. Bob served with Company E, 75th Rangers from 1968-1970 and has co-authored a book with two other Vietnam War veterans (see links below)
We hear of the reconnaissance and ambush tactics as well as some poignant memories of those that didn't make it back.
This podcast relies on listener support to enable me to continue to capture these incredible stories and make them available for free. You can support my work and help to preserve Cold War history via one-off or monthly donations
Just go to https://coldwarconversations.com/donate/ for more details.
Do join our Facebook discussion group where the cold war conversation continues between episodes. Just search Cold War Conversations on Facebook.
I am delighted to welcome Bob Wallace to our Cold War conversation…
Bob's co-authored book
Thank you very much for listening. It is really appreciated.
Have a look at our store and find the ideal gift for the Cold War enthusiast in your life? Just go to https://coldwarconversations.com/store/
Books
Video
Support the Podcast and get access to exclusive extra content 
Available on our Patreon page here