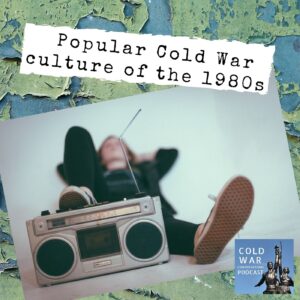 Over the past, nearly two decades, the Stuck in the 80s podcast has emerged as the go-to for all aspects of 1980s nostalgia from a North American point of view. And, much like Cold War Conversations, Stuck in the 80s is an award-winning podcast.
Recognizing that decade's popular culture was heavily influenced by the Cold War, co-host Peter Ryan organized a discussion with its curators, Steve Spears and Brad Williams.
During their chat, Brad and Steve express their views on the extent to which Cold War elements permeated all aspects of our daily lives through that decade.  Key topics that are covered include some of the most important songs, films, television programs of the 80s that were Cold War oriented, some of which may surprise listeners.  Also discussed are the key personalities of the 1980s Cold War period, from both sides of the Iron Curtain.
This special edition of Cold War Conversations will also features a playlist on Spotify, featuring many of the songs discussed during this lively episode.  We thank Brad and Steve for the chance to organize a cross-podcast discussion today and encourage listeners to visit their website sit80s.com to learn more about their dedication to keeping the nostalgia of the 1980s alive.
Help  me to continue producing the podcast. Single or monthly donations really helps keep the podcast on the air.

Just go to https://coldwarconversations.com/donate/
If a financial contribution is not your cup of tea, then you can still help us by leaving written reviews wherever you listen to us as well as sharing us on social media. It really helps us get new guests on the show.
I am delighted to welcome Peter Ryan, Steve Spears and Brad Williams to our Cold War conversation…
If you can't wait for next week's episode do visit our Facebook discussion group where guests and listeners continue the Cold War Conversation.
Thank you very much for listening. It is really appreciated.
Help Support the podcast by shopping at Amazon here
Or maybe a CWC mug or maybe a t-shirt here?