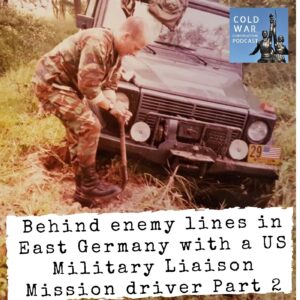 We return to the 2nd part of Tom Favia's story with the US Military Liaison Mission which the Soviet Union permitted to operate in East Germany, ostensibly for monitoring and furthering better relationships between the Soviet and Western occupation forces. The British & French also had missions as did the Soviets in West Germany.
As you would expect there are some incredible incidents that Tom shares with us including one with a drunk Soviet Major who tries to defect. Tom was with USMLM when the Wall opened in Nov 1989 and describes the uncertainty of the time with Soviet soldiers selling parts of tanks and munitions.
If you have listened this far, I know you are enjoying the podcasts so I'm asking for donations to support my work and enable me to continue producing the podcast. If you become a monthly supporter, you will get the sought after CWC coaster as a thank you and bask in the warm glow of knowing you are helping to preserve Cold War history.
Just go to https://coldwarconversations.com/donate/
If a financial contribution is not your cup of tea, you can still help us by leaving written reviews wherever you listen to us and sharing us on social media. It really helps us get new guests on the show.
I am delighted to welcome back Tom Favia to our Cold War conversation…
There's further information on this episode can be found here. https://coldwarconversations.com/episode185
If you can't wait for next week's episode, visit our Facebook discussion group where guests and listeners continue the Cold War Conversation. Just search Cold War Conversations on Facebook.
Thank you very much for listening. It is really appreciated.