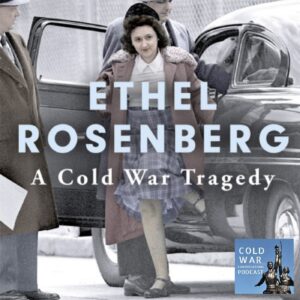 Ethel Rosenberg is a controversial figure with polarising views varying from an innocent mother caught up in Cold War hysteria to a willing and ruthless accomplice to her husband's Cold War espionage betraying secrets to the Soviets.
Anne Sebba's new book "Ethel Rosenberg – A Cold War tragedy" ("An American tragedy" in the US) provides a more nuanced view of Ethel that is not just about innocence and guilt but of a talented singer and mother of two children, betrayed by her family and the American judicial system. Aged 37, in 1953 she becomes the first woman in American history to be executed for a crime other than murder.
Whatever your views about Ethel Rosenberg this episode will highlight more of who Ethel was and how the American judicial system was manipulated to ensure her conviction.
Anne's book is available on this link.
If you've listened this far, I know you are enjoying the podcasts so I'm asking for a small monthly donation to support my work and allow me to continue producing the podcast. As a monthly supporter, you will get the sought after CWC coaster as a thank you and bask in the warm glow of knowing you are helping to preserve Cold War history.
Just go to https://coldwarconversations.com/donate/
If a financial contribution is not your cup of tea, you can still help us by leaving written reviews wherever you listen to us and sharing us on social media. It really helps us get new guests on the show.
I am delighted to welcome Anne Sebba to our Cold War conversation…
Orion Books have kindly provided 3 copies of "Ethel Rosenberg" to give away!

To be in with a chance to win a free copy of the book you will need to do at least one of the following before 2300 BST 3rd July 2021:

Winners will be selected randomly w/c 5th July 2021. If you are winner You will be notified directly if you have won. Please note if you are a winner your details will be passed to the publishers to facilitate book delivery. Good luck!
If you can't wait for next week's episode, visit our Facebook discussion group where guests and listeners continue the Cold War Conversation. Just search Cold War Conversations on Facebook.
Our Book List
Help Support the podcast by shopping at Amazon.
Our Merchandise Store
Help support the podcast with a CWC mug or maybe a t-shirt?
Disclaimer: This post contains affiliate links. If you make a purchase, I may receive a commission at no extra cost to you.