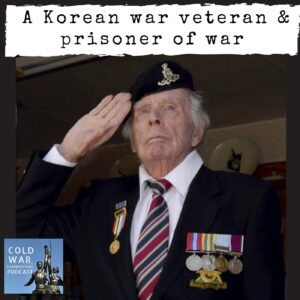 70 years ago today would have been the middle of a desperate battle by outnumbered British forces at the battle of the Imjin River in Korea. The Korean War was among the most destructive conflicts of the modern era, and one of the few times when the Cold War turned hot. There were approximately 3 million war fatalities and a larger proportional civilian death toll than World War II or the Vietnam War.
Tommy Clough is one of the last surviving of the battle of the Imjin River and was just 19 when the Gloucestershire Regiment were cut off from their brigade by more than 10,000 Chinese troops in 1951. Outnumbered and surrounded, they dug in on a hilltop for three days, repelling attack after attack until their ammunition ran out. The battle of the Imjin River was one of the most famous of the Korean War
We hear in detail Tommy's experiences in the days up to the battle, as well as the desperate fighting to hold off the Chinese army as food, water and ammunition ran out.
Inevitably the Gloucestershire Regiment was forced to surrender and Tommy's story continues, with the hardship and privation of the 500 miles march to their prisoner of war camp. Following an escape attempt, Tommy is held and handcuffed for 6 weeks in solitary confinement including a lengthy period held in a small cage.
It's an incredible story of fortitude and resilience under the most extreme circumstances and I am so humbled and honoured to be able to share this story with you. I'd like to thank The History of War magazine for putting me in contact with the Soldiers of Gloucestershire Museum and subsequently Tommy.
I am delighted to welcome Tommy Clough to our Cold War conversation…
Now I need help to continue to track down these unknown stories of the Cold war and ensure they are preserved before they are lost. If you can spare it I'm asking listeners to contribute at least $3 USD per month to help keep us on the air (larger amounts are welcome too) plus you can get a sought after CWC coaster as a monthly financial supporter of the podcast and you bask in the warm glow of knowing you helping preserve Cold War history.

Just go to https://coldwarconversations.com/donate/
If you can't wait for next week's episode do visit our Facebook discussion group where guests and listeners continue the Cold War Conversation. Just search Cold War Conversations in Facebook.
Thank you very much for listening. It is really appreciated
Support the Podcast and get access to exclusive extra content 
Available on our Patreon page here