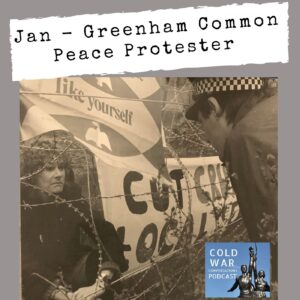 Greenham Common Women's Peace Camp was a protest camp established in 1981 to protest against the deployment of USAF controlled Ground Launched nuclear armed Cruise Missiles at RAF Greenham Common in Berkshire, England.
On the eve of International Women's' Day 2021 I talk with Jan Castro-Fraser who chose to challenge the existence of nuclear weapons during the Cold War.
We talk about her experiences at Greenham Common Peace Camp and other demonstrations in the 1980s as well as how her experiences in the peace movement changed her, empowered her and made her who she is today.
If you are enjoying the podcast, you can show your support via a monthly donation of $4, £3 or €3 via Patreon, plus you will get the sought after CWC coaster as a thank you and bask in the warm glow of knowing you are helping to preserve Cold War history.
Just go to https://coldwarconversations.com/donate/
If a financial contribution is not your cup of tea, then you can still help us by leaving written reviews wherever you listen to us as well as sharing us on social media. It really helps us get new guests on the show.
I am delighted to welcome Jan to our Cold War conversation…
There's further information on this episode in our show notes which can also be found as a link in your podcast app here.
If you can't wait for next week's episode do visit our Facebook discussion group where guests and listeners continue the Cold War Conversation. Just search Cold War Conversations in Facebook.
Thank you very much for listening.
Videos
Websites
Jonathan Sayer's  site covering the history of Greenham Common
Jonathan's book detailing the history of the base.
The Greenham Cold War Experience
Greenham Common Control Tower preservation group
Website of the Greenham Common Women's Peace Camp
Support the Podcast and get exclusive extra content
Available on our Patreon page here