We continue the story of Bill, a US Army Intelligence Analyst with Combined Analysis Detachment-Berlin (CAD-B) from episode 127. Germany has now been re-unified and Russian troops have withdrawn from East Germany. Bill tells us of the little known story of continued US Army involvement in intelligence gathering alongside the German security services, the BND.
We hear about "Operation Giraffe", described as the largest intelligence service procurement campaign of the West since the end of World War II, how Russian sources recruited during the Cold War were managed and how Britain's MI6 was cut out of receiving the information they had received freely during the Cold War.
Bill tells us of a joint BND/CIA mission to monitor the disposal of Russian nuclear weapons.
It's a fascinating look into the murky world of human intelligence gathering, corruption, and rivalry in the immediate post Cold War period.
I could really use your support to help me to continue to produce these podcasts. A monthly donation of $4, £3 or €3 via Patreon will really help and you will get the sought after Cold War Conversations coaster as a thank you and bask in the warm glow of knowing you are helping to preserve Cold War history.
Just go to https://coldwarconversations.com/donate/
Thanks to all our latest supporters including Tim Simmons, Fredrik Lundberg, Mary J O'Grady, Robert Ritchie, and Katie Brown.
If a financial contribution is not your cup of tea, then you can still help us by leaving written reviews wherever you listen to us as well as sharing us on social media. It really helps us get new guests on the show.
I am delighted to welcome Bill to our Cold War conversation…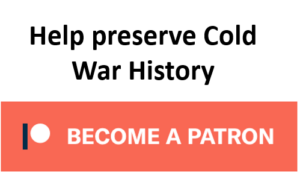 If you can't wait for next week's episode do visit our Facebook discussion group where guests and listeners continue the Cold War Conversation. Just search Cold War Conversations in Facebook.
Thank you very much for listening. It is really appreciated.
Support the Podcast and get exclusive extra content
Available on our Patreon page here