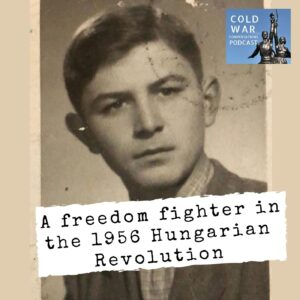 Charlie was 17 in 1956. A trip home from work by tram ended up with him being thrust into the heart of the Hungarian Revolution of 1956, a nationwide revolution against the Hungarian People's Republic and its Soviet-imposed policies, lasting from 23 October until 10 November 1956.
I'm in conversation with Charlie and his daughter Angela as Charlie describes how he and his friends attacked the Communist held Budapest radio station and graphically details his experiences and what he saw during those momentous days.
He also recalls his escape from Hungary and his later life in Wales and return visit to the country of his birth while it was still within the orbit of the Soviet Union.
I do really need your help to allow me to find the time to continue producing and preserving these Cold War stories.
All I'm asking is for listeners to pledge a monthly donation of at least $4, £3 or €3 per month to help keep the podcast on the air, although larger amounts are welcome too.
As a thank you you will get the sought after Cold War Conversations drinks coaster and you bask in the warm glow of knowing you are helping to preserve Cold War history.
Just go to https://coldwarconversations.com/donate/
If a financial contribution is not your cup of tea, then you can still help us by leaving written reviews wherever you listen to us as well as sharing us on social media. It really helps us get new guests on the show.
I am delighted to welcome Charlie and Angela to our Cold War conversation…
If you can't wait for next week's episode do visit our Facebook discussion group where guests and listeners continue the Cold War Conversation.
Thank you very much for listening. It is really appreciated – goodbye.