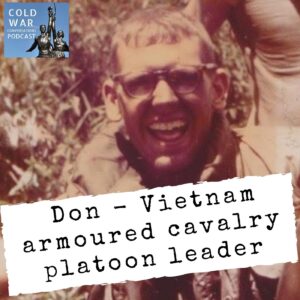 This is the first of two episodes we have following Don Snedeker's experiences through the Cold War.  In this episode, we hear about his time in Vietnam and the book he has written entitled "The Blackhorse in Vietnam: The 11th Armored Cavalry Regiment in Vietnam and Cambodia, 1966–1972".
Don was born in Brooklyn New York but followed his Father's postings around the globe as an 'Army brat'.  Don was commissioned into the Armour branch of the US Army in February 1969 and by December he had been posted to Vietnam initially assigned to the 11th Armored Cavalry Regiment (Blackhorse) but later joining the 1st Armoured Cavalry Regiment (Blackhawks) serving as an armoured cavalry platoon leader and as a Long Range Reconnaissance Patrol platoon leader.  He was awarded a Bronze Star with 'V' for Valour, a Purple Heart, and the Combat Infantryman's Badge.
If you can spare it I'm asking listeners to contribute at least $3 USD per month to help keep us on the air (larger amounts are welcome too) plus you can get a sought after CWC coaster as a monthly financial supporter of the podcast and you bask in the warm glow of knowing you are helping to preserve Cold War history.
Just go to https://coldwarconversations.com/donate/
Co-host James conducts our chat and I am delighted to welcome Don Snedeker to our Cold War conversation…
Casemate Publishing has kindly provided three copies of "he Blackhorse in Vietnam: The 11th Armored Cavalry Regiment in Vietnam and Cambodia, 1966–1972" to give away!
** This is only available to US and European listeners**
To be in with a chance to win a free copy of the book you will need to do at least one of the following before 2300BST 17th October 2020:
Winners will be selected randomly w/c 18th October 2020.  if you are a winner You will be notified directly if you have won. Please note if you are a winner  your details will be passed to Casemate Publishing to facilitate book delivery.  Good luck!
If you can't wait for next week's episode do visit our Facebook discussion group where guests and listeners continue the Cold War Conversation. Just search Cold War Conversations in Facebook.
Thank you very much for listening. It is really appreciated – goodbye.
Books
Video
Support the Podcast and get access to exclusive extra content 
Available on our Patreon page here