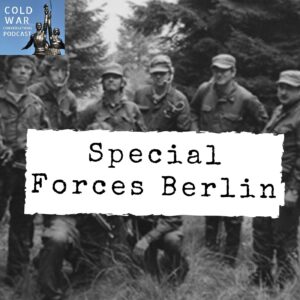 James Stejskal served for 23 years with US Special Forces, including two tours in Berlin. Special Forces Berlin was a small detachment of 100 highly trained soldiers who, should hostilities break out, were to wreak havoc behind Warsaw Pact lines.
The US government only acknowledged its existence in 2014 and James has written an incredible story of how these unsung heroes would have fought and died on what was effectively a one way mission.
If you are enjoying the podcast please leave a written reviews in Apple podcasts or share us on social media. By telling your friends you can really help the podcast grow.
If you can spare it I'm asking listeners to contribute $3 USD per month to help keep us on the air (larger amounts are welcome too) plus you can get a sought after CWC coaster as a monthly financial supporter of the podcast and you bask in the warm glow of knowing you helping preserve Cold War history. Just go to https://coldwarconversations.com/donate/

Thanks to latest Patreons Ian Crangle, Steve Minegar, Ryan King, Claudia Morgenstern, Mike Cser, Graham Randall, Iain Mckay Dall, Mike Chapman, Michael ODonnell, Robert Krom, & Jeffrey Jones.
Don't forget we have a book away of Special Forces Berlin, so make sure you listen through to the end for details of how to enter.
Back to today's episode, the story starts with James' initial recruitment into the US Army. We welcome James to our Cold War conversation…
Full video Interview of James https://www.c-span.org/video/?429564-2/special-forces-cold-war-berlin
Special Forces Berlin Web site https://www.detachment-a.org/
UK Fans can buy the book here & support the podcast https://amzn.to/3cYHdz4
US Fans can buy the book here & support the podcast https://amzn.to/2YvYprs
James' publisher has kindly provided three copies of "Special Forces Berlin" to give away!
To be in with a chance to win a free copy of the book you will need to do at least one of the following before 2300BST 9th May 2020:
Winners will be selected randomly w/c 10th May 2020. You will be notified directly if you have won. Please note that due to Covid19 delivery of books to the winners may be delayed.  Good luck!
If you like what you are hearing, please leave reviews in Apple podcasts and share us on social media.
If you can't wait for next week's episode do visit our Facebook discussion group where guests and listeners continue the Cold War Conversation. Just search Cold War Conversations in Facebook.
Support the Podcast and get exclusive extra content
Available on our Patreon page here