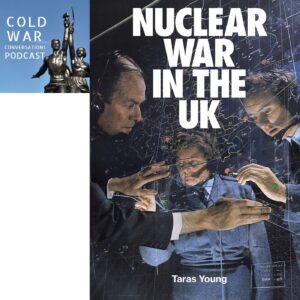 For almost five decades, the United Kingdom made plans for a nuclear attack that never came. To help their citizens, civil servants and armed forces prepared those in power a variety of booklets, posters, and how-to guides.
Taras Young is a researcher & writer who has produced a book, "Nuclear War in the UK",  detailing much of this Cold War ephemera such as the infamous Protect and Survive guide, as well as fascinating lesser-known materials prepared for the United Kingdom Warning and Monitoring Organisation and the Royal Observer Corps.
If you are enjoying the podcast please leave a written review in Apple podcasts or share us on social media. By telling your friends you can really help the podcast grow.
It costs money and time to produce this podcast so I'm asking listeners to contribute $3 USD per month to help keep us on the air (larger amounts are welcome too) plus you can get a sought after CWC coaster as a monthly financial supporter of the podcast.

Just go to https://coldwarconversations.com/donate/
In today's episode, we delve into Taras Young's collection in an eye-opening look at the way Britain's authorities reacted to the Soviet nuclear threat…
Links
Taras' Web site – Communicating the Unthinkable https://coldwar.org.uk/
Interview with Taras in the Guardian https://www.theguardian.com/books/2019/oct/30/uk-was-primed-for-nuclear-war-in-the-uk-taras-young-interview
Creative Review https://www.creativereview.co.uk/nuclear-war-tamas-young/
Support the show (https://www.patreon.com/coldwarpod)
Books
Video
Cold war Museums
Portadown monitoring post in Northern Ireland
Cosford National Cold War Museum
Dundee ROC Group/Sector Bunker