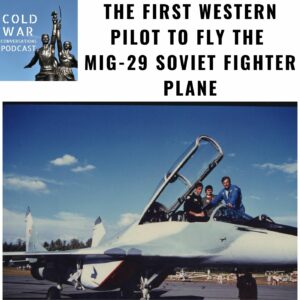 What was it like to be the first western pilot to fly the most advanced Soviet fighter aircraft? At the 1989 Abbotsford Air Show, during the dying days of the Cold War, Canadian CF-18 pilot Major Bob Wade became the first Western pilot to fly a Soviet MiG-29 Fulcrum fighter aircraft. This episode tells you how he did it.
Now I'm sure you are enjoying your weekly dose of Cold War history, and you'd like to continue to do so.
So I'm asking if you wouldn't mind supporting us by paying at least $3 USD a month – higher amounts are welcome too. It's very straightforward and you can stop whenever you want. Plus monthly supporters get the sought after CWC coaster too!
Just go to https://coldwarconversations.com/donate/
You can also help the podcast by leaving written reviews in Apple podcasts as well as sharing us on social media.
Back to today's episode, Bob and I talk in detail on the circumstances of the flight as well as what it was actually like to fly an aircraft you've never flown before with instruments in a language you don't understand and only 10 minutes of briefing…
We welcome Major Bob Wade to our Cold War conversation…
Bob is RCAF Association Honorary President for the Province of Alberta. He is also on the Board of Directors at the Military Museums RCAF Museum Society of Alberta. Their web site is at: www.rcaf.museum and they have an excellent Cold War Exhibit currently featuring an F86 Sabre, CF104 Starfighter and CF 18 Hornet.
Bob is leading an effort to more than double the size of the display area to include NORAD assigned fighters including the CF100 Cannuck, CF101 Voodoo and a T-33 aircraft. They are in the fundraising phase at the moment and the web site has an option where interested listeners can contribute if they feel inclined.

[ngg src="galleries" ids="36″ display="basic_thumbnail" thumbnail_crop="0″]Although the video below says SU-27 it is in fact of the MIG-29

If you like what you are hearing, please leave reviews in Apple podcasts and share us on social media.
If you can't wait for next week's episode do visit our Facebook discussion group where guests and listeners continue the Cold War Conversation. Just search Cold War Conversations in Facebook.
Thankyou very much for listening.
Support the Podcast and get access to exclusive extra content 
Available on our Patreon page here