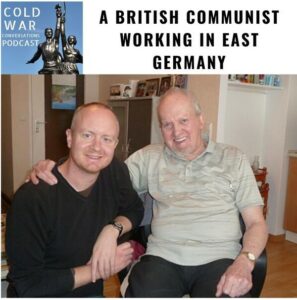 John Tarver was born into a middle-class family. He joined the British Communist Party on his 18th birthday in 1948 because he felt the Soviet Union had made the most effective resistance to fascism.
He worked as a party activist in Britain and made several trips to the GDR where he would get a job at Potsdam as head of the final year of studies in the English language.
His 18 years' work as a Communist party organizer set him apart from other Britons in the GDR and he became an informer for the Stasi.
Now if this podcast was a magazine you wouldn't mind paying a few quid or dollars a week so I'm asking you to support us for the bargain price of $3 a month. In the last few weeks John Newlove and Mike Hart have joined in helping to cover the show's increasing costs and keep us on the air, plus they've got the sought after CWC coaster too.
Just go to https://coldwarconversations.com/donate/
Special thanks to Ian Hawkins who allowed me to use these audio files from his excellent documentary "My DDR T-Shirt" which will feature in the show notes. (A much younger me appears in this too…)
John Tarver talks openly about his personal, political and professional life in Britain and East Germany/GDR. He also talks about his commitment to Communism, the work he did as a Stasi agent, the fall of the Berlin Wall, the collapse of the GDR and his return in recent years to the Catholic faith.
We welcome John Tarver to our Cold War conversation…

There's the full version of the "My DDR T-Shirt" documentary below. A much younger me is on at 8:52,  27:51, 29:43, 34:00, 36:04 and 44:06