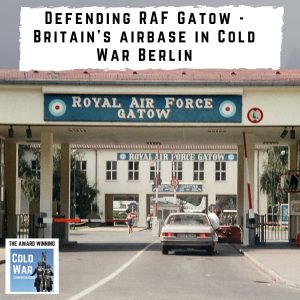 Trevor Howie's role at RAF Gatow was advising the Station Commander on Station defence during times of war, tension or terrorist threat as well as the defence of 26 Signals Unit at the Teufelsberg listening post.  
Listen on Apple PodcastsListen on SpotifyListen on Google PodcastsBecome a Patron!
RAF Gatow's western side was located right against the Berlin Wall which was clearly visible from the control tower. Beyond the Wall was the Döberitz training area for the Soviet and East German Army. 
Soviet jets regularly overflew West Berlin emitting sonic booms to underline the immediate threat from their forces. 
To gain intelligence about the opposition Trevor used the resident De Havilland Chipmunk aircraft to see across the Wall and observe the neighbouring Soviet and East German forces. He describes the defence plans and exercises such as Exercise Grizzly Bear where every member of the air station would have played a part in its defence.
Trevor vividly describes how he heard that the Wall had opened on 9th November 1989. 
It's a fascinating view of British forces in Berlin and their plans should the Cold War have turned hot.
Cold War history is disappearing; however, a simple monthly donation will keep this podcast on the air. You'll become part of our community and get a sought after CWC coaster as a thank you and you'll bask in the warm glow of knowing you are helping to preserve Cold War history. 
Just go to https://coldwarconversations.com/donate/
If a monthly contribution is not your cup of tea, We also welcome one-off donations via the same link.
I am delighted to welcome Trevor Howie to our Cold War conversation…
Episode notes here https://coldwarconversations.com/episode246/
Follow us on Twitter here https://twitter.com/ColdWarPod
Facebook here https://www.facebook.com/groups/coldwarpod/
Instagram here https://www.instagram.com/coldwarconversations/