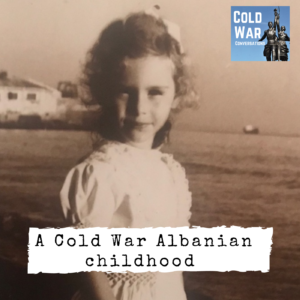 Lea Ypi grew up in one of the most isolated countries on earth, a place where communist ideals had officially replaced religion. Albania, the last Stalinist outpost in Europe, was almost impossible to visit, almost impossible to leave. It was a place of queuing and scarcity, of political executions and secret police. To Lea, it was home. People were equal, neighbours helped each other, and children were expected to build a better world. There was community and hope.
Listen on Apple PodcastsListen on SpotifyListen on Google Podcasts
Then, in December 1990, a year after the fall of the Berlin Wall, everything changed. The statues of Stalin and Hoxha were toppled. Almost overnight, people could vote freely, wear what they liked and worship as they wished. There was no longer anything to fear from prying ears. But factories shut, jobs disappeared and thousands fled to Italy on crowded ships, only to be sent back. Predatory pyramid schemes eventually bankrupted the country, leading to violent conflict. As one generation's aspirations became another's disillusionment, and as her own family's secrets were revealed, Lea found herself questioning what freedom really meant.
Free is an engrossing memoir of coming of age amid political upheaval. With acute insight and wit, Lea Ypi traces the limits of progress and the burden of the past, illuminating the spaces between ideals and reality, and the hopes and fears of people pulled up by the sweep of history.
Buy the book and support the podcast on the links below
Now time doesn't come free and I'm asking listeners to support my work recording these incredible stories via a small (or large)l donation. If you become a monthly supporter via Patreon, you will get the sought after CWC coaster as a thank you and bask in the warm glow of knowing you are helping to preserve Cold War history.
Just go to https://coldwarconversations.com/donate/
If you can't wait for next week's episode do visit our Facebook discussion group where guests and listeners continue the Cold War Conversation.
I am delighted to welcome Lea Ypi  to our Cold War conversation…
There's further information here.  https://coldwarconversations.com/episode210/
Thank you very much for listening. It is really appreciated – goodbye.
Photos of Albania taken in 1989
Videos of Albania in 1989 (in German, but definitely worth a look)

Support the Podcast and get access to exclusive extra content 
Available on our Patreon page here