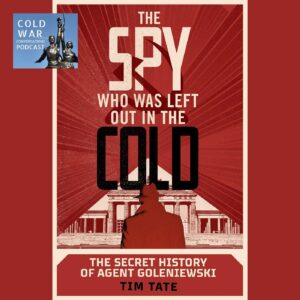 We speak with author Tim Tate about his new book the Spy who was left out in the Cold: The Secret History of Agent Goleniewski
Michal Goleniewski remains one of the most important, yet least known and most misunderstood spies of the Cold War. Even his death is shrouded in mystery and he has been written out of the history of Cold War espionage – until now.
Tim Tate draws on a wealth of previously unpublished primary source documents to tell the dramatic true story of the best spy the west ever lost – of how Goleniewski exposed hundreds of KGB agents operating undercover in the West; from George Blake and the 'Portland Spy Ring', to a senior Swedish Air Force and NATO officer and a traitor inside the Israeli government. The information he produced devastated intelligence services on both sides of the Iron Curtain.
I could really use your support to continue the podcast. A simple monthly donation via Patreon, will as a monthly supporter get you the sought after CWC coaster as a thank you and bask in the warm glow of knowing you are helping to preserve Cold War history. 

Just go to https://coldwarconversations.com/donate/
If a financial contribution is not your cup of tea, then you can still help us by leaving written reviews wherever you listen to us as well as sharing us on social media. It really helps us get new guests on the show.
I am delighted to welcome Tim Tate to our Cold War conversation…
If you can't wait for next week's episode do visit our Facebook discussion group where guests and listeners continue the Cold War Conversation. Just search Cold War Conversations in Facebook.
Thank you very much for listening. It is really appreciated.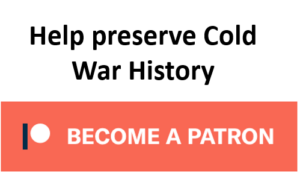 Transworld Books have kindly provided 3 copies of "The spy who was left out in the Cold" to give away!
To be in with a chance to win a free copy of the book you will need to do at least one of the following before 2300 BST 29th May 2021:
Twitter – Follow us and retweet our book giveaway link.  Here is our  twitter profile
Facebook – Follow us and share our post using the hashtags #Goleniewski and #coldwarconvo
Instagram – Follow us on Instagram , like our  post and tag at least two friends in the comments. Make sure you use  the hashtags #Goleniewski and #coldwarconversations
Mailing List – Join our mailing list and email us at ian "at" coldwarconversations.com to let me know you want to be entered.
Winners will be selected randomly w/c 30th May 2021. If you are winner You will be notified directly if you have won. Please note if you are a winner your details will be passed to Transworld Books to facilitate book delivery. Good luck!