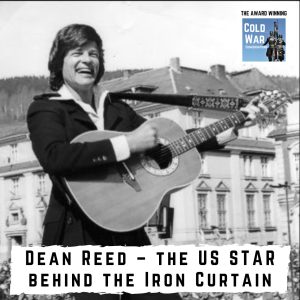 Ramona Reed's father was Dean Reed an American actor, singer and songwriter, director, and Socialist who became a huge star in Latin America and the Eastern Bloc.
Listen on Apple PodcastsListen on SpotifyListen on Google Podcasts
Now if you like the podcast you can help to support us for the price of a couple of coffees a month. You'll be helping to cover the show's increasing costs and keep us on the air, plus you get the sought-after CWC coaster too.
Just go to https://coldwarconversations.com/donate/
So back to today's episode – Ramona was born in 1968 and gives insight into his life via private correspondence, but also what it was like to be the daughter of such a huge Eastern Bloc star. Part 2 is here https://coldwarconversations.com/episode98/
We welcome Ramona to our Cold War conversation…
Links