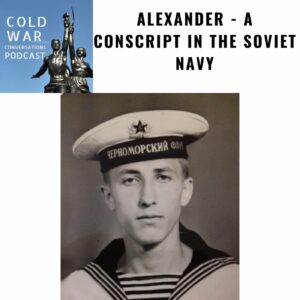 Alexander 'Sasha' Goncharov was born in Leningrad but early in this life moved to Ukraine. After leaving school he was drafted into the Soviet Military and was based in Sevastopol where he worked in Naval Aviation servicing anti-ship weapons systems. At the end of this period, Sasha decided to stay in the military to make it a full-time career. He was sent to Moscow where he trained as a full-time linguist. He was posted to Syria and Libya facilitating interactions between local forces and their Soviet advisors.
Now if this podcast was a magazine you wouldn't mind paying a few quid or dollars a week so I'm asking you to support us for the bargain price of $3 a month. In the last few weeks John Newlove and Mike Hart have joined in helping to cover the show's increasing costs and keep us on the air, plus they've got the sought after CWC coaster too.
Just go to https://coldwarconversations.com/donate/
So back to today's episode with special thanks to James for conducting this interview. Alexander left the Russian military as a Lt Colonel and is the Co-Organiser of an Anglo-Russian charity which looks to bring Russians who fought in World War II to the UK to visit. http://lastww2soldier.ucoz.net
We welcome Lt Colonel Alexander Goncharov to our Cold War conversation…
[ngg src="galleries" ids="30″ display="basic_thumbnail" thumbnail_crop="0″]If you like what you are hearing please leave reviews in Apple podcasts and share us on social media.
If you can't wait for next week's episode do visit our facebook discussion group where guests and listeners continue the Cold War Conversation.
Support the Podcast and get access to exclusive extra content
Available on our Patreon page here