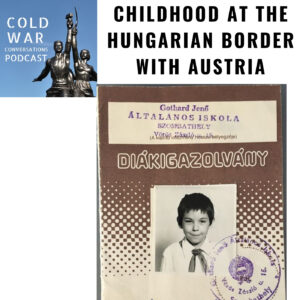 Balint grew up in Hungary right next to the border with Austria. Part of his family escaped in 1956 and went to Australia. Balint's grandfather survived 4 years in a Gulag camp
Would you like a CWC Coaster? It's easy, sign up to Patreon and for the price of a couple of coffees a month you'll be helping to cover the show's increasing costs and keep us on the air, plus you get the sought after CWC coaster too.
Just go to https://coldwarconversations.com/donate/
Back to today episode, Balint's home village was a hot spot for escapes being so close to the border. The locals knew the area well and helped many people across for money. He tells that his dad used to play right next to the fence with his friends often messing with the border guards. They could see tractors in the Austrian side working the fields. One quick note before we start, Balint now lives in Ireland, hence the Irish accent you will hear in the recording.
We welcome Balint to our Cold War conversation.
[ngg src="galleries" ids="23″ display="basic_thumbnail" thumbnail_crop="0″]
Support the Podcast and get access to exclusive extra content
Available on our Patreon page here