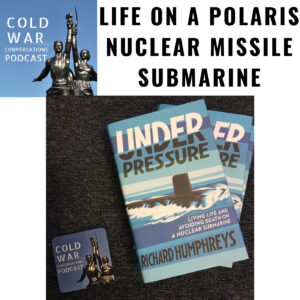 As a restless and adventurous 18-year-old, Richard Humphreys joined the submarine service in 1985 and went on to serve aboard the nuclear deterrent for five years at the end of the Cold War.
Buy the book here and support the podcast.
Now before we start his story as I'd like to tell you about some of our fans who are helping the podcast financially such as Liam Doyle, Sarah Ampolsk, Philippe Branco, Victor Osprey and Richard Orman. So how do you join this select band? Then sign up to Patreon. For the price of a couple of coffees a month you help to cover the show's increasing costs and keep us on the air, plus you get the sought after CWC coaster too.
Just go to https://coldwarconversations.com/donate/
Back to today episode, Richard has just published his book called "Under Pressure" described by historian James Holland as "'An utterly fascinating and wonderfully detailed insight into the hidden – and frequently disorientating and claustrophobic – world of the modern submariner, this richly compelling and hugely entertaining memoir brilliantly conveys the tension, huge responsibility, culture and, of course, humour, of being a crewman on the nuclear deterrent."
We welcome Richard Humphreys to our Cold War conversations
Win one of three free copies of Richard's book
To be in the chance to win one of three free copies follow us on twitter @coldwarpod , Facebook @coldwarconversations and Instagram @coldwarconversations. Then post a link to this page with hashtag #CWCunderpressure
We'll notify winners week commencing 21st October.
Buy the book here and support the podcast.