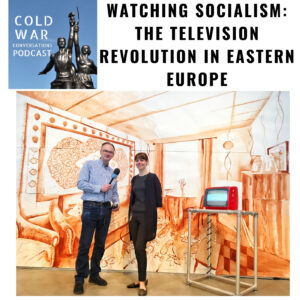 Watching Socialism: The Television Revolution in Eastern Europe is an exhibition co-curated by the Wende Museum and British scholars Sabina Mihelj and Susan Reid.  Both the capitalist West and the communist East attempted to leverage TV as a medium that represented modernity and progress during the Cold War. While television was indeed a tool that promised to spread communist ideology, the reality was more complex.
I toured the exhibition with Anna Rose Canzano of the Wende as we discuss the exhibits and the impact of TV on life in the Eastern Bloc with some surprising discoveries.
Now many of our fans are the proud owners of a Cold War Conversations Coaster, a gift from me to thank them for helping the podcast financially.
For the price of a couple of coffees a month to cover the show's increasing costs and keep us on the air you can get a coaster too?
Just go to Patreon.com/coldwarpod
Back to today's episode, we welcome Anna Rose Canzano of the Wende Museum to our Cold War Conversation
Websites
Photos
[ngg src="galleries" ids="21″ display="basic_thumbnail"]
Support the Podcast and get exclusive extra content
Available on our Patreon page here