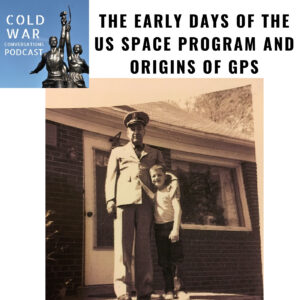 Richard Easton is the co-author of GPS Declassified which examines the development of GPS or Sat Nav as some of us call it now, from its secret, Cold War military roots.
Roger Easton, Richard's father, assisted in laying the foundations for the GPS system.  However, Roger Easton also worked on the early US space program and his son vividly describes his childhood when his father was working on the early US satellites.
Now before we start a special thanks to our select band of supporters who are helping us financially for the price of a cup of coffee a month to cover our increasing costs and keep us on the air. They are the proud owners of a CWC coaster-  this years must have household accessory! Click here for more information.
We welcome Richard Easton to Cold War Conversations.
Buy the book on this link and support the podcast
Visit the GPS Declassified web site here. 
[ngg src="galleries" ids="20″ display="basic_thumbnail"]
Support the Podcast and get access to exclusive extra content 
Available on our Patreon page here