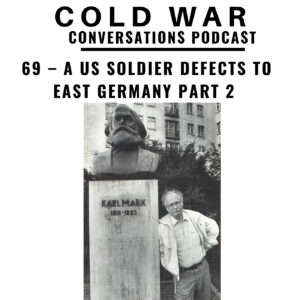 We continue the story of Victor Grossman the US Army soldier who defected to East Germany in the 1960s. He tells us of his life in the GDR, his close friendship with Dean Reed "The Red Elvis", of shortages, his views on Egon Krenz and his first trip back to the US in the 1990s.
Special thanks to our select band of supporters who are helping us financially for the price of a cup of coffee a month to cover our increasing costs and keep us on the air. They are the proud owners of a CWC coaster-  don't you want one too?
Just click here.
We Welcome Victor Grossman back to Cold War Conversations
If you'd like a copy of Victor's book, click on this link.
Now back to today's episode. While some of you will disagree with Victor's views, his first hand account of his experiences is an important part of Cold War history.
We start my Cold War Conversation with  Victor telling about the neighbours in his apartment block.
Links
Interview with Victor Grossman by the Communist Party of Gt Britain 
Russia Today interview (starts at 2:03)