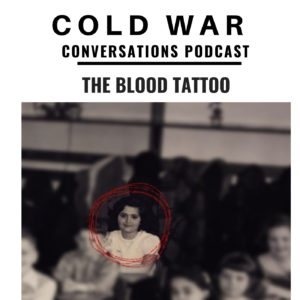 Today's episode is a bonus episode celebrating our 50th episode which came out on 23rd Feb 2019.  I honestly never thought we'd get this far, but it's thanks to you the listener.
In 1951, a small pilot program was launched in Indiana and Utah as a civilian defense measure to aid in the aftermath of a nuclear attack.
The idea was simple: If a bomb dropped, people would need medical attention.
They would need a fast and accurate system to help administer blood transfusions. Blood type and Rh factor (a newly discovered slightly important detail in the world of blood transfusions) needed to be readily available to emergency personnel.
You can lose a paper ID card. Dog tags can come off your neck. Limbs can easily get blown off. Blood typing needed a universal and permanent placement. They had just the ticket.
A tattoo under the arm, on the rib cage, and children were the guinea pigs for this test program…
Your feedback and kind comments keep me going and I am delighted we appear to be keeping your interest after almost a year of broadcasting.
Now regular listeners will know the drill, as this is the point ask you to help support us. As the podcast gets more popular our costs of hosting and running the podcast increase, so if you are enjoying what you hear a few dollars, pounds or roubles a month help keep us on the air. Click here to learn more. Thank you so much to all our fans that are supporting us – it is really appreciated!
Now back to today's episode where I introduce our two guests…
Join our Facebook group here. Or follow us on twitter here.
Visit Dia's Blog
Support the Podcast and get access to exclusive extra content 
Available on our Patreon page here