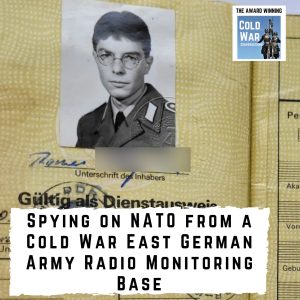 Born in 1968 in East Germany Thomas had a "normal socialist" but happy childhood in a small town near Dresden. His family was viewed as exotic at that time as his mother had Hungarian citizenship which allowed her to travel to West Berlin.
Listen on Apple PodcastsListen on SpotifyListen on Google PodcastsBecome a Patron!
He was conscripted into the East German Army and signed up for 3 years as an Unteroffizier (NCO) instead of one and a half years of compulsory service.
After training he is posted to a radio reconnaissance battalion based on the top of a mountain in the middle of nowhere near the inner German border. The unit was tasked with monitoring NATO surface-to-air missile batteries such as Patriots, and Nike Hercules, tracking NATO air traffic in West Europe, and listening to air-to-ground transmissions.
Thomas describes the isolated life on the mountain and harsh winters with lots of snow. The base was protected with a high-voltage double fence and sentries. With good visibility, Thomas could see the enemy in a similar mountaintop monitoring station on the other side of the border.
Here is the link to the Japanese AOR scanners Thomas mentioned: https://www.rigpix.com/aor/aor_ar2002.htm
Photos of Thomas' base (only in German) where he was stationed: https://www.manfred-bischoff.de/fuaz-sued.htm
Google maps link to the location of his base
---
The fight to preserve Cold War history continues and via a simple monthly donation, you will give me the ammunition to continue to preserve Cold War history. You'll become part of our community, get ad-free episodes, and get a sought-after CWC coaster as a thank you and you'll bask in the warm glow of knowing you are helping to preserve Cold War history.
Just go to https://coldwarconversations.com/donate/
If a monthly contribution is not your cup of tea, We also welcome one-off donations via the same link.
---
Find the ideal gift for the Cold War enthusiast in your life! Just go to https://coldwarconversations.com/store/
Follow us on Twitter https://twitter.com/ColdWarPod
Facebook https://www.facebook.com/groups/coldwarpod/
Instagram https://www.instagram.com/coldwarconversations/
Youtube https://youtube.com/@ColdWarConversations
Love history? Check out Into History at this link https://intohistory.com/coldwarpod
---