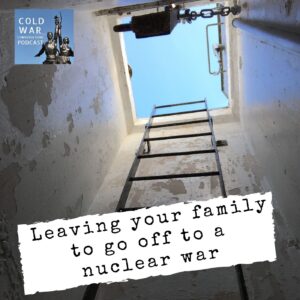 Dave Arnold was the Chief Observer of  a Royal Observer Corps nuclear monitoring post in Staffordshire in the UK.
The equipment used to record today's episode has kindly been provided by our supporters who make monthly donations via Patreon – a special thanks to all of them.
If you would like to support the podcast further and get access to some exclusive extras go to our web site at coldwarconversations.com and click on the "support the Podcast" menu option.
Now back to today's episode. My instructions were to meet in the Royal Oak pub car park where I would be escorted to the post…right on 11am David appeared and guided me up various little used country lanes into the hills above Rushton Spencer and onto a rutted track.
We climbed further until a small well kept compound appeared over a ridge. Welcome to the Rushton Spencer Royal Observer Corps post…
Visiting the Post.
If you'd like to visit Rushton Spencer, you can contact Dave Arnold  via email at  g8yqa at outlook.com
Books
Attack Warning Red – A history of the Royal Observer Corps
The Royal Observer Corps Underground Monitoring Posts
Royal Observer Corps Films
Sound an Alarm – Part 1-6
https://www.youtube.com/watch?v=nK2l7fVyVUQ
https://www.youtube.com/watch?v=YIiKI-CntiY
https://www.youtube.com/watch?v=s4hZACmaXD8
https://www.youtube.com/watch?v=akYJTQIUFwc
https://www.youtube.com/watch?v=R0OgWrjOWaM
https://www.youtube.com/watch?v=gzidKkwNk6c
Protect & Survive – 1970's UK Public infommercials On Nuclear War Preparation
https://www.youtube.com/watch?v=m6U9T3R3EQg&t=1978s
A public information film about joining the Royal Observer Corps from 1977
https://www.youtube.com/watch?v=yjT_P9q_xyg
The Hole in the Ground
https://www.youtube.com/watch?v=aEY886b1P34
A programme from 1983 featuring the Royal Observer Corps' Dulwich Post which was situated on the Dulwich and Sydenham Hill Golf Club
https://www.youtube.com/watch?v=nMcyogqF7lY
Forewarned is Forearmed a Royal Observer Corps film
https://www.youtube.com/watch?v=xiepfG7IKRo
Cold war Museums
Portadown monitoring post in Northern Ireland
Cosford National Cold War Museum
Dundee ROC Group/Sector Bunker