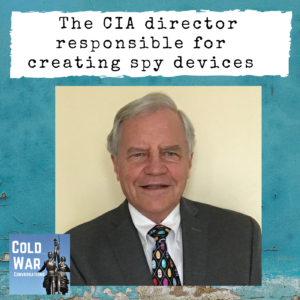 After service in the US Army during the Vietnam War Bob Wallace was recruited into the CIA.
In the CIA his initial assignments were as a field case officer. He rose through the ranks at the agency and was Chief of Station in three locations where he directed the full range of CIA activities.
In 1995 Bob became deputy director of the Office of Technical Service and in 1998 was appointed its director responsible for creating spy devices and capabilities necessary to conduct clandestine operations with safety and security. In other words, Bob was the "Q" of the CIA.
Listen on Apple PodcastsListen on SpotifyListen on Google Podcasts
Buy Bob's book here
UK listeners https://amzn.to/3pBDrF4
US listeners  https://amzn.to/3qvX0xD
This podcast relies on listener support to enable me to continue to capture these incredible stories and make them available for free. You can support my work and help to preserve Cold War history via one-off or monthly donations

Just go to https://coldwarconversations.com/donate/for for more details.
Do join our Facebook discussion group where the cold war conversation continues between episodes. Just search Cold War Conversations on Facebook.
I am delighted to welcome Bob Wallace to our Cold War conversation…
Thank you very much for listening. It is really appreciated.
Have a look at our store and find the ideal gift for the Cold War enthusiast in your life? Just go to https://coldwarconversations.com/store/
Video
Support the Podcast and get access to exclusive extra content 
Available on our Patreon page here