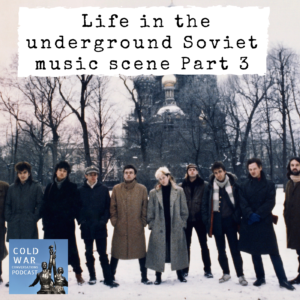 Listen on Apple PodcastsListen on SpotifyListen on Google PodcastsListen on Podcast AddictListen on Amazon MusicBecome a Patron!
In the final part, we hear of Joanna's heartbreak when her visa is refused, preventing her from marrying Yuri.  However, using an ingenious method she manages an emotional reunion and eventual marriage as the Soviet Union begins to dissolve.
Part one is here and part 2 here
Joanna's book, Red Wave written with her singer/songwriter daughter, Madison, includes Stingray's extensive collection of photographs, artworks, and interviews with the musicians.
If you are enjoying the podcasts I'm asking for donations to support my work and enable me to continue producing the podcast. If you become a monthly supporter via Patreon, you will get the sought after CWC coaster as a thank you and bask in the warm glow of knowing you are helping to preserve Cold War history.

Just go to https://coldwarconversations.com/donate/
If a financial contribution is not your cup of tea, then you can still help us by leaving written reviews wherever you listen to us as well as sharing us on social media. It really helps us get new guests on the show.
I am delighted to welcome Joanna Stingray to our Cold War conversation…
DoppelHouse Press have kindly provided 3 copies of "Red Wave: An American in the Soviet Music Underground" to give away!
To be in with a chance to win a free copy of the book you will need to do at least one of the following before 2300 BST 25th Sep 2021:
** Winners will be selected randomly w/c 26th Sep 2021. if you are a winner You will be notified directly if you have won. Please note if you are a winner your details will be passed to DoppelHouse Press to facilitate book delivery. Delivery of the book may be subject to small customs fees. Good luck!
If you can't wait for next week's episode do visit our Facebook discussion group where guests and listeners continue the Cold War Conversation.
Thank you very much for listening. It is really appreciated.
Help Support the podcast by shopping at Amazon here
Or maybe a CWC mug or maybe a t-shirt here?