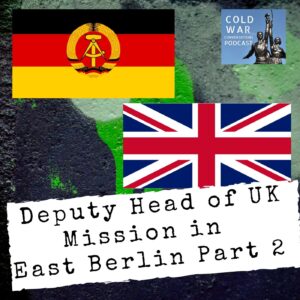 This is Part 2 of our conversation with Colin Munro who was the British Deputy Head of Mission in East Berlin from 1987 to 1990.
In this episode we move to the monumental events of 1989 as the GDR was wrought by internal protest prior to the opening of the Wall in Berlin. It's a fascinating account of Colin's contacts who were giving him insights into the eventual fall of the GDR.
Do you know how much $3 USD is in Pounds? It's 76 pence which equals about 20p or 75c per episode if you sign up as a monthly financial supporter of the podcast.
Higher amounts are welcome too. It's very straightforward and you can stop whenever you want. Plus monthly supporters get the sought after CWC coaster too!
Just go to https://coldwarconversations.com/donate/
Thank you so much to our 87 generous supporters who help keep us on the air.
If that's not your cup of tea then leave a written reviews in Apple podcasts or share us on social media. By telling your friends you can really help the podcast grow.
In today's episode, Colin tells of translating for Margaret Thatcher during a phone call with Helmut Kohl, UK imports from the GDR and of a drunken Harry Tisch, the East German Trade Union leader.
We welcome Colin to our Cold War conversation…
If you like what you are hearing, please leave reviews in Apple podcasts and share us on social media.
If you can't wait for next week's episode do visit our Facebook discussion group where guests and listeners continue the Cold War Conversation. Just search Cold War Conversations in Facebook.
Thankyou very much for listening. It is really appreciated – goodbye.
Support the Podcast and get access to exclusive extra content 
Available on our Patreon page here