pt>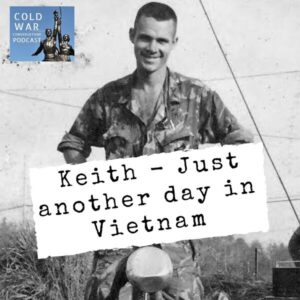 In this episode we talk with Col. Keith Nightingale who served in the US military from 1965 to 1993.  He completed two tours of Vietnam; the first as a Senior Advisor to a Vietnamese Ranger unit and the second as a rifle company commander in the 101st Airborne.
Keith used the experience of his first tour to write 'Just another day in Vietnam' which gives a vivid first-hand account of a jungle operation with the South Vietnamese Rangers against the Viet Cong.
If you can spare it I'm asking listeners to contribute at least $4 USD per month to help keep us on the air (larger amounts are welcome too) plus you can get a sought after CWC coaster as a monthly financial supporter of the podcast and you bask in the warm glow of knowing you are helping to preserve Cold War history.
Just go to https://coldwarconversations.com/donate/
Co-host James conducts our chat and I am delighted to welcome Keith Nightingale to our Cold War conversation…
If you can't wait for next week's episode do visit our Facebook discussion group where guests and listeners continue the Cold War Conversation. Just search Cold War Conversations in Facebook.
Casemate Publishing has kindly provided four copies of "Just another day in Vietnam" to give away!
** This is only available to US and European listeners**
To be in with a chance to win a free copy of the book you will need to do at least one of the following before 2300GMT 19th December 2020:
Winners will be selected randomly w/c 20th December 2020.  if you are a winner You will be notified directly if you have won. Please note if you are a winner your details will be passed to Casemate Publishing to facilitate book delivery. Books will arrive after Xmas.  Good luck!
Thank you very much for listening. It is really appreciated – goodbye.
Books
Keith has also produced two videos which share his personal view of his time in Vietnam:


Support the Podcast and get access to exclusive extra content 
Available on our Patreon page here