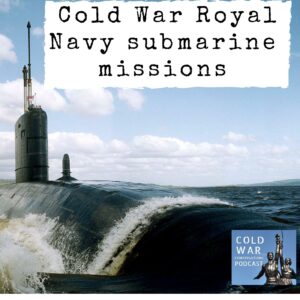 Today we speak with Ian Ballantyne, the author of "Hunter Killers", also known as "Undersea Warriors" in the United States.
Hunter Killers' tells the incredible, true inside story of the Royal Navy's Cold War beneath the waves.
Buy the book and support the podcast on the link below.
We talk about the forgotten role Royal Navy submarines played in the Cuban Missile Crisis while also learning the truth behind what official statements called collisions with 'icebergs'.
In addition, we cover the processes and procedures of the Polaris nuclear missile submarines including the "Letters of Last Resort".
Now I really need your help to allow me the time to continue producing and preserving these Cold War stories.
A monthly donation to help keep us on the air is only about  $3, £3 or €3 per month (larger amounts are welcome too) plus you can get a sought after CWC coaster as a monthly financial supporter and you bask in the warm glow of knowing you are helping to preserve Cold War history.
Just go to https://coldwarconversations.com/donate/
If a financial contribution is not your cup of tea, then you can still help us by leaving written reviews wherever you listen to us as well as sharing us on social media. It really helps us get new guests on the show.
I am delighted to welcome Iain Ballantyne to our Cold War conversation…
If you can't wait for next week's episode do visit our Facebook discussion group where guests and listeners continue the Cold War Conversation. Just search Cold War Conversations on Facebook.
Thank you very much for listening. It is really appreciated
Polaris missile launch procedure