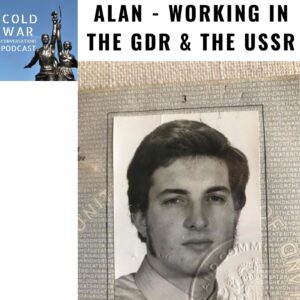 Welcome to Cold War Conversations – if you're new here, you've come the right place to listen to firsthand Cold War history accounts. Do make sure you subscribe in your podcast app so you don't miss out on future episodes.
Alan Baker worked and studied in the GDR and the USSR from the 1970s through to the end of the Soviet Union and the emergence of the Russian Federation as we know it today.
In Moscow, Alan had the opportunity to live and study in the well-known Moscow State University as well as the opportunity to attend the 54th anniversary of the Russian Revolution Parade in 1971 in Moscow.
In addition Alan was awarded a Peace Scholarship to study in Leipzig at the Karl-Marx-Universität and worked for the Novosti News Agency in London which meant travelling extensively in the USSR visiting Star City and the construction of Trans-Siberian pipeline
Our reviews help the podcast grow, so if you are enjoying our content please leave a written review in Apple podcasts or share us on social media.
If you can spare it I'm asking listeners to contribute $3 USD per month to help keep us on the air (larger amounts are welcome too) plus you can get a sought after Cold War Conversations coaster as a monthly financial supporter of the podcast and you bask in the warm glow of knowing you are helping preserve Cold War history.
Just go to https://coldwarconversations.com/donate/
Thanks to latest Patreons
Back to today's episode, our co-host James interviews Alan as he talks of his experiences in the USSR and the GDR as well as his efforts to promote trade between the UK and the Soviet Union and the Russian Federation.
We welcome Alan to our Cold War conversation…
There's further information on this episode in our show notes, which can also be found as a link in your podcast app.
If you like what you are hearing, please leave reviews in Apple podcasts and share us on social media.
If you can't wait for next week's episode do visit our Facebook discussion group where guests and listeners continue the Cold War Conversation. Just search Cold War Conversations in Facebook.
Thankyou very much for listening. It is really appreciated – goodbye.
Support the Podcast and get access to exclusive extra content 
Available on our Patreon page here