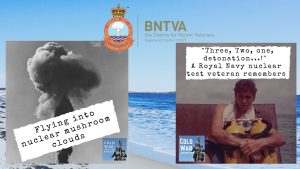 In 2021 I had the honour to speak with British nuclear test veterans at the  British Nuclear Test Veterans Association (BNTVA) annual conference. I met many veterans including John Robinson and Peter Lambourne.
John Robinson was an RAF pilot who was tasked to fly into the mushroom clouds of nuclear bomb tests to capture samples at Operation Buffalo at Maralinga in 1956, and Operation Grapple, at Christmas Island in 1957.
Peter joined the Royal Navy aged 15. In 1962 Peter was posted to Christmas Island where his base was less than 20 miles away from where hydrogen bombs were being detonated and he shares his experiences of those detonations.
Many servicemen and islanders who were present at Christmas Island from 1957 to 1962 later reported severe health problems, which they attributed to the nuclear bomb tests – from cancers to organ failure.
The UK is the only atomic test nation with no official recognition or compensation to nuclear test veterans.